RESERVED AREA
What can I find in the Customers'area?
You will find: our catalogues, advanced search functions, possibility of entering orders on line, new items, status of shipments, data files.
WELCOME
Euroricambi produces spare parts for gearbox and differential for vehicles such as trucks buses, tractors and cars. The Euroricambi product is not original but perfectly interchangeable with it as it is produced using the same quality standards and adopting the same technological processes used by the original manufacturers.
The Euroricambi range essentially consists of crown wheel and pinion sets, gears, shafts and synchronisers and covers a high number of gearboxes and differential units of original manufacturers such as: Mercedes Benz, Z.F., Volvo, Scania, R.V.I (Renault Trucks), MAN, Fuller (Eaton), Arvin Meritor, Dana (Eaton), DAF, Iveco.
The fact that it covers an area of 35,000 m2, has over 400 permanent members of staff and exports to more than 90 countries throughout the world testifies its success, achieved by working with passion and dedication, day after day, based on relationships built on great trust with its clientele.
NEWS
News archive

CELEBRATING OUR 35TH ANNIVERSARY
2014 marks the 35th anniversary of the founding of Euroricambi.
Read more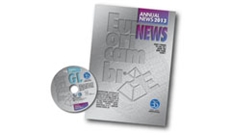 New publications - We are glad to inform you that the new editions of our GL 2014 and of our ANNUAL NEWS 2013 have just been published.
We recommend you to enter the Reserved Area to have a look at our brand new product.